A new chapter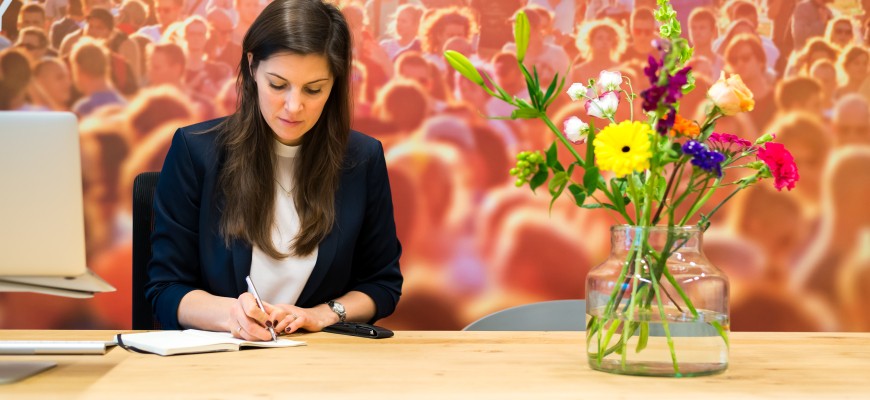 01 jul
It has been more than seven years since Art of Story was founded. Art of Story developed with the help of a wide variety of projects and businesses. From supporting management teams during leadership days, shooting videos on the factory floor and one-on-one guidance to a corporate online platform, writing books and being responsible for story direction during inspirational gatherings for more than 1,000 employees. Over the years, these countless meetings have resulted in hundreds of interviews, reports, training programmes and interaction sessions. There was never a dull day.
Improving connections
Although the nature of the projects and the businesses differed, the overarching goal was always the same: to improve the connections between people. With Art of Story, I wanted to achieve that by utilising corporate storytelling in a methodical manner. It worked; we worked with such clients as FrieslandCampina, Unilever, DFE Pharma, Abbott, Aalberts Industries, Rotterdam University of Applied Sciences, Brainport Eindhoven and BrabantZorg and developed multi-year partnerships with them. We managed to connect corporate stories to practical experiences, train supervisors and stimulate interaction on an organisation-wide scale. By doing so, the overarching strategy came to life and people's involvement in their organisation grew.
And yet. As time went on and more and more programmes were realised, I kept arriving at the same conclusion. With corporate storytelling, the degree of connection that clients were after could only partially be realised. I was frequently asked to make an organisation's story come to life, yet I was not authorised to intervene when the reality of their story clearly called for it. It is an illusion to believe that developing a good story will foster connections between the people in an organisation if their management team conveys a message of division rather than unity. At times like that, the corporate culture needs a more integrated approach.
A new course: Cultural Synergy
This insight coincided with the realisation that I thrive as a professional when I get to work directly with (groups of) people: analyse, facilitate, mediate and guide. I also realised that the complexity of the issues I deal with calls for a multidimensional approach that allows me to use both my knowledge of business administration and my anthropological expertise. This approach allows me to get to the heart of the corporate culture and assist with its management.
The pieces of the puzzle gradually fell into place and in early March, it was suddenly perfectly clear to me: the new focus and approach also called for a new name. Art of Story will become Cultural Synergy. From corporate storytelling to corporate culture consultancy, yet still with the same goal of improving the connections between people, creating synergy.
Art of Story: an online platform
Nevertheless, I do not want to abandon Art of Story altogether. My love of people and their stories and my passion to create are as strong as ever. Art of Story's journey will continue, albeit with a new destination. Together with graphical designer Giselle Segura Gelink, I will develop an online platform to present stories that truly touch the reader, with the goal of emphasising the connecting power of stories.
A lot has happened these past seven years. I am truly grateful for my loyal clients, all of whom have taught me so much. As an entrepreneur, the best way to grow is through the collaboration with your clients. They will tell you again and again what works and what doesn't. I also look back with fondness on the creative partnerships I formed with writers, trainers, production companies, graphical designers and app developers. Working and creating together has enriched me in more ways than I can count.
Time to move on
The time has come to move on as a corporate culture consultant operating under the name Cultural Synergy. My new website has already gone live: www.cultural-synergy.com

Then there is Art of Story: the online platform that is centred around the power of stories. We are working hard to create content and will keep you updated: www.art-of-story.com
I hope to meet you in the near future, be it online or at a safe distance of 1.5 metres.
In the meantime, I hope you find inspiration and wonderful connections.
Eveline